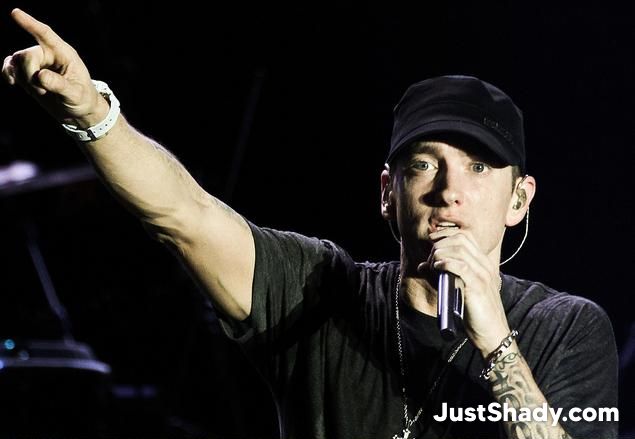 Lady Gaga and Oprah Winfrey rank high on the list and
Eminem
's recent "Recovery" puts him in the top 10. But the title of most powerful entertainer in the biz in 2010 goes to -- surprise! -- the frequently eccentric, sometimes reclusive and often baffling Johnny Depp.
Entertainment Weekly, which released its annual ranking of the world's 50 most powerful entertainers Thursday, has this to say of the actor whose résumé includes the roles of Sweeney Todd and Edward Scissorhands: "With his uncompromising gonzo turn as Capt. Jack Sparrow in 'Pirates of the Caribbean: The Curse of the Black Pearl' in 2003, his stardom went supernova. ... Depp can do anything he wants."
The publication also was wowed by the 2010 resurgence of Motor City hip-hop king Em (No. 10):
"Eminem rules whenever, and wherever, he chooses."
(Eminem will be featured in a segment airing Sunday on CBS's "60 Minutes." The shows starts at 7 p.m.)
The rest of the top 10: Gaga (2), Winfrey (3), Simon Cowell (4), Will Smith (5), Robert Downey Jr. (6), Sandra Bullock (7), Ellen DeGeneres (8) and Leonardo DiCaprio (9). The list is published in EW's Oct. 15 issue. For more: ew.com.
Peruvian wins Nobel
Peru's Mario Vargas Llosa, 74, won the 2010 Nobel Prize in literature on Thursday. Vargas Llosa's writing is popular in Latin America, but his gradual shift from the left toward an embrace of free-market capitalism has put him at odds with much of the Western Hemisphere's intellectual elite.
And speaking of authors, horror meister Stephen King is America's favorite, according to a new Harris Poll. Also ranking high: James Patterson and John Grisham.
Briefly
• Violinist Sarah Chang, scheduled to perform this week with the Detroit Symphony Orchestra until the musicians strike canceled the concerts, will play a recital at 7:30 p.m. Monday at Orchestra Hall. The program includes music by Brahms and Cesar Franck. Tickets for the canceled DSO concerts will be good for the recital. General admission tickets are $25. 313-576-5111 or detroitsymphony.com.
• The Soup Nazi lives! Larry Thomas, the actor who played the cranky proprietor of a soup shop on a classic 1995 episode of "Seinfeld," will be in Southfield on Saturday to film segments for a viral marketing campaign by Zoup! The fast-soup establishment at 29177 Northwestern Hwy. has just completed a major remodeling project.
• Chris Hansen of "Dateline NBC" fame will moderate a debate today between the Brother Rice High School debate team and a team of alums. The topic is "How to Save Michigan." It starts at 11 a.m. at the Brother Rice gym, 7101 Lahser in Bloomfield Hills. Hansen grew up in Bloomfield Township and attended Brother Rice.
http://www.freep.com/article/20101008/ENT07/10080360/1035/rss04#ixzz12jAuNkSb
---
Get cheap stuff at DX.com